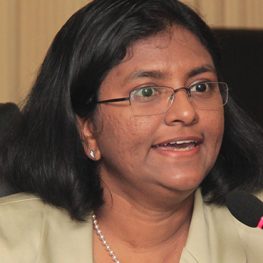 Dr. Priyeshni Periris Perera
Senior Lecturer, Director (UBL Unit)
Qualifications: Doctor of Musical Arts in Piano Pedagogy (highest) – TTU -U.S.A, Fellowship Royal Schools of Music – U.K
Profile:
Dr. Priyeshni Peiris-Perera is an international award winning choral & music director who led two choral groups – founded by her at their debut attempt to win the highest ranked Gold medals and a "Champion's Trophy" at the "Asia Pacific Choir Games 2017" of the Interkultur – the global leader in choral competitions and festivals. Dr. Perera was the only invited artiste from South Asia to perform at the "International Choral Festival" in China amongst other nations such as Australia, New Zealand, South Korea, France, Germany and Russia in 2018.
She is a trained concert pianist, music educator and music researcher in the international realm. She returned to Sri Lanka with a Doctor of Musical Arts degree from Texas Tech University (USA) where she was awarded the prestigious fellowships of "The AT& T Chancellor's Fellowship" and the "Texas Tech President Horn Fellowship for Outstanding Academic & Professional Achievement." She has concertized across the U.S, Australia, Europe & Singapore and disseminated her research in Music Performance & Pedagogy through lecture-recitals & workshops at prestigious international Music Conferences in Spain, Singapore, Australia, U.S.A.
Dr. Priyeshni P.Perera, is Sri Lanka's first and only person in Sri Lanka to hold a doctorate in Musical Arts from the U.S.A. and the Fellowship of the Royal Schools of Music (F.R.S.M. – UK). She returned to Sri Lanka with the mission of fostering music education where she strives to motivate and empower the next generation of musicians and music teachers at the University of Visual & Performing Arts, Colombo where she serves as a full-time lecturer.
Research Interests:
Music Bio mechanical approaches piano performance, Music Performance Psychology, Brain research in Music, Music Therapy
Publications:
2018 American Music Therapy Association conference presentation,
2015 The 1st Higher Educational Advances Conference proceedings
2011 The Musicology Society of Australia ""Power of Music"" conference"
Awards:
Awarded the ""Champions Trophy"" Best Choral music directed performance at the Asia Pacific Choir Games 2017
Awarded Two Gold Medals at Asia Pacific Choir Games 2017 – High ranking choral performances
2016, 2017, 2018 & 2019 – The Best Music Educator Award at The Sri Lankan Music Festival affiliated to the British Federation of Music Festivals (U.K).
Texas Tech University – ""'President Horn Fellowship"" recipient for Outstanding Academic & Professional Achievement Texas Tech University, USA.
AT & T Chancellor's Fellowship Recipient for Outstanding Academic Achievements (Texas Tech University- U.S.A)