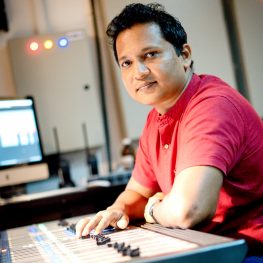 Mr. C. B. Illangasinghe
Director - Staff Development Centre | Head (Engineering) - VAPA Television | Senior Lecturer (Grade II)
Qualifications:  (M. Phil-UVPA,SL),(B. PA -Hons (Special) -UVPA,SL),(PGD-SJP,SL)
(Dip.Au.Eng-AIA,San Francisco   )
Profile:
Mr. Charudaththe Illangasinghe is a Senior lecturer in the Department of Applied Music & Mass Communication of University of the Visual & Performing Arts. He is the Director of the Staff Development Centre of the University and also, He is the Divisional Head of the Engineering division of VAPA TV which is attached to the University of the Visual & Performing Arts.
He specialized in Audio Engineering, Sound Designing and Technology focused Music. He was a visiting Lecturer of Sri Palee Campus of University of Colombo, University college of Ratmalana. He is also currently a visiting lecturer of University of Peradeniya and University of Vocational Technology in Sri Lanka. Mr.Charudaththe has particular expertise and research interest in Music Technology, Acoustics, Audio Engineering and Ethnomusicology.
Mr.Charudaththe Illangasinghe entered Trinity college , Kandy, Sri Lanka in 1985 ,an old school, enriched by age old traditions ,cherished by many. This vivacious pupil was quick to grasp the manifold of facets, akin to the style of education, unlashed by this scholastic institution. The awards he won at the National level in his schooling time were numerous. And are testimony to his talents.
His Passion for Music did not permit him to be complacent with his achievements. He toiled his way in to gaining Visharadha conducted by the Bhathkande Vidyapith, Lucknow. His Undergraduate Days were an Intermingling of academic education, and practical implementation of what he learned. His capabilities enabled him to be a Director of Music, In a Film, Screened in 2007 namely "Tharaka Mal" Produced By EAP Films and Directed By Mr. Milton Jayawardhane. Siyoth rawaya, Gini Maddahana, Sathyaa, Demansala, are four tele dramas he has directed Music for. Further, he has produced Music for number of popular TV and Radio Commercials and Jingles in Sri Lanka. At this young age in 2003's, he contributed as a Recording Engineer and the Music producer in prominent Recording Studios in Colombo which includes The Turning Point, Stik Figure, Video Image Etc..
Mr.Charudaththe completed his Master of Philosophy in University of Visual and Performing Arts and he obtained his Bachelor of Performing Arts degree from the same University. He holds a Diploma in Recording Engineering offered by the Audio Institute of America based in San Francisco-US . He also possesses a post graduate diploma in writership and communication offered by the University of Sri Jaywardhanapura Sri Lanka. And he has followed a diploma in Film Making conducted by the National Film corporation of Sri Lanka, alongside a diploma course in Hindi Language conducted by the University of Kelaniya.
Research Interests:
Music Technology, Ethnomusicology, Acoustics and Audio Engineering.
Publications
Conference Proceedings of National and International Conference Presentations, Journal Publications
Are the industrial techniques associated with world music compatible with South Asian folklore? "Miyasi Subasa- ii " University of Visual & Performing Arts – 2009
A Musicological study in Melodies of "Nelum" Songs in Sri Lankan Ethnic Music – 5th Research Conference ,The Royal Asiatic Society of Sri Lanka – 2012
A Study on the Use of Modern Methods of Musicology to Study Sri Lankan Ethnic Music. Annual Research Symposium 2012-2013,University of the Visual & Performing Arts – 2013
"Audio Visual Segregation in Typically Developing Children" – Speech and Language Therapy, Audiology and Disability Conference, Department of Disability Studies, Faculty of Medicine, University of Kelaniya .2014
Importance of studying Computer Aided Ethnomusicology for Computer Aided Applied Music productions –  9th Annual Research Conference ,The Royal Asiatic Society of Sri Lanka – 2016
Session chair – 5th International conference on Arts and Humanities, The International Institute of Knowledge Management – 2018
Memberships in International Organizations
Member – Audio Institute of America (San Francisco) US
Member – Society of International Recording Engineers.
Collaborating with Influencers
Folk, Classical, Contemporary music & Live Sound Engineering – (Concerts Norway – 2008)
Acoustics & Live Sound Engineering –By Dag Olaf  Astebol (Sound Engineer From Norway) (Sewa Lanka Foundation & Concerts Norway – 2009)
Acoustics & Live Sound Engineering –By Stig Aron Kamonen (Sound Engineer From Norway) – (Sewa Lanka Foundation & Concerts Norway –2012,2013 )
Acoustics & Live Sound Engineering –By Fali Damania (Sound Engineer From India) – (Sewa Lanka Foundation & Concerts Norway – 2015)
Acoustics & Live Sound Engineering – By Aseem Dhaneshwar (Sound Engineer From India) – (Sewa Lanka Foundation & Concerts Norway –2016)
Dr.Arnold Bake Restudy – With Prof.Amy Catlin Jairazbhoy – Department of Ethnomusicology, University of California – 2011