International Society for Music Education
Promoting Intercultural Understanding through Music Transmission in South Asia
3rd South Asian Regional Conference
23rd -25th November 2021
What is ISME.
ISME stands for International Society for Music Education.
ISME is affiliated to the International Music Council and UNESCO.
ISME has members in more than ninety countries.
ISME is the premiere international organization for Music Education.
ISME respects all music and all cultures.
ISME believes that every individual has a right to Music Education.
About the Conference
Theme: Promoting Intercultural Understanding through Music Transmission in South Asia
South Asia is a region of great diversity. This diversity should be widely respected and nurtured. Although living standards are based on increasing economic outputs, some critical voices should be heard that have to balance the place of music learning, that have to deal with the facts of oral traditions, in primary schools as well as in other types of schools and learning/teaching institutions. This conference may have to re-define a number of issues such as public and private music education, name their goals, and question some basic assumptions of educational principles applied to regionally diverse communities.
Proposals for individual papers presentations, panel sessions (symposia), workshops and multi-media presentations are invited from participants worldwide. ISME encourages submissions from researchers and practitioners at all career stages including students and early career professionals that align with the conference theme and the needs and aspirations of music education throughout the region.
Virtual Conference
Faculty of Music
University of the Visual and Performing Arts
Colombo
Committees
Conference Steering Committee
Conference Chair
Sandra Oberoi (ISME Board Member & ISME Advocacy Committee Chair)
Conference Co-Chair
Saman Panapitiya (Dean of the Faculty of Music, UVPA)
Kaushalya Navaratne (Sevalanka, Srilanka)
Chinthaka Meddegoda
Iranga Weerakkody ​
​Charudaththe Illangasinghe
Chinthaka Prageeth Meddegoda, University of Visual and Performing Arts, Colombo
Heidi Westerlund (University of the Arts Helsinki, Finland)
Danielle Treacy (University of the Arts Helsinki, Finland)
Solveig Korum (Kulturtanken, Norway)
Iman Shah (Nepal Music Centre, Nepal)
Robert Lindon Tavis Ashton-Bell (Christ – Deemed to be University, India)
Natalie Serrazin (SUNY at Brockport, USA)
Bindu Subramanian (SaPa, India)
​Adam Greig (KM Music Conservatory, India)
Gisa Jähnichen (Shanghai Conservatory of Music, China)
Rohan Nethsinghe (University of Canberra, Australia)
Event Sponsors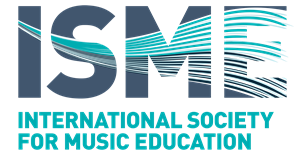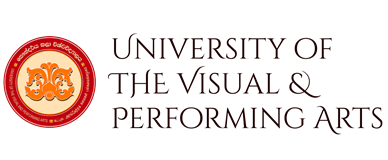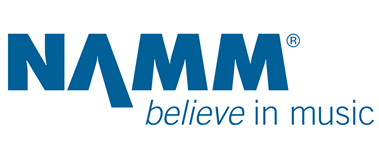 Keynote Speakers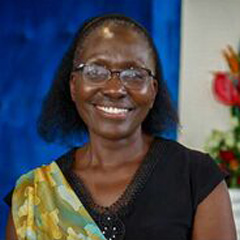 Emily Achieng' Akuno is Deputy Vice Chancellor (Academic Affairs) at The Co-operative University of Kenya. She holds a Doctor of Philosophy degree from Kingston University, Surrey, UK, a Master of Music of the Northwestern State University, Louisiana, USA and Bachelor of Education (Arts) of Kenyatta University, Kenya. Prof. Achieng' Akuno has over 30 years University level Teaching, Research and Administration experience. She has served in various senior and middle level management capacities here in Kenya and abroad, including Kenyatta University, Maseno University and the Technical University of Kenya and the University of KwaZulu-Natal in Durban, South Africa.
Trained as a performer-educator, Prof. Achieng' Akuno is actively involved in the music and music education scene in Kenya and internationally. An astute researcher currently working on a music for literacy development project, she is widely published and read with over 40 academic works in refereed journals, books and conference proceedings.
Prof. Achieng' Akuno is the current ISME President and a former President of the International Music Council.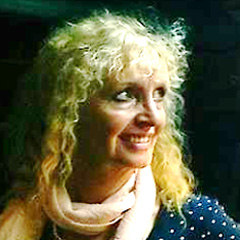 Gisa Jähnichen, Prof. Dr. (Ecomusicology, Performance Practices of Asia) at Shanghai Conservatory of Music, Chair of the ICTM Study Group on Musical Instruments, Secretary of the IASA T&E Committee, Ambassador of IASA to Malaysia and China, Vice President of the RILM MIXTE Commission, and Member of the DeCoSEA Project, also teaching at Guangxi University of the Arts, Vienna University, Humboldt University Berlin, and as consultant at the National Library of Laos.
​She studied at Charles University, Prague, Humboldt-University Berlin, and Vienna University. Her many writings and editions are widely published and are accessible online and in libraries around the world.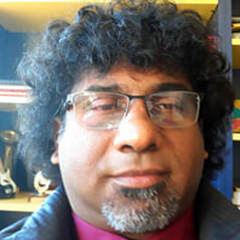 Laureate of international Jazz music festivals and competitions Dr. Rohan Nethsinghe from University of Canberra, Australia is an Assistant Professor in Creative Arts Education, Visiting Professor at the University of Visual and Performing Arts, Sri Lanka and Christ Deemed to be University, Bangalore, India. Rohan has more than thirty years of performing, teaching and researching experience in international contexts and has worked as a musician (at the Donetsk State Academic Opera and Russian Ballet Theatre), teacher in Australian schools (p-12) and in higher education sector (Technical and Further Education institutions and Universities). As a phenomenologist Rohan publishes in scholarly journals and presents his research internationally in the areas of Creative Arts Education, STEAM, Music Education, Arts Education and Higher Education. His research in Multicultural Music Education has contributed to the enhancement of the scholarship in teaching and learning and Rohan has won several prestigious awards for his research in teacher education.
Call for Papers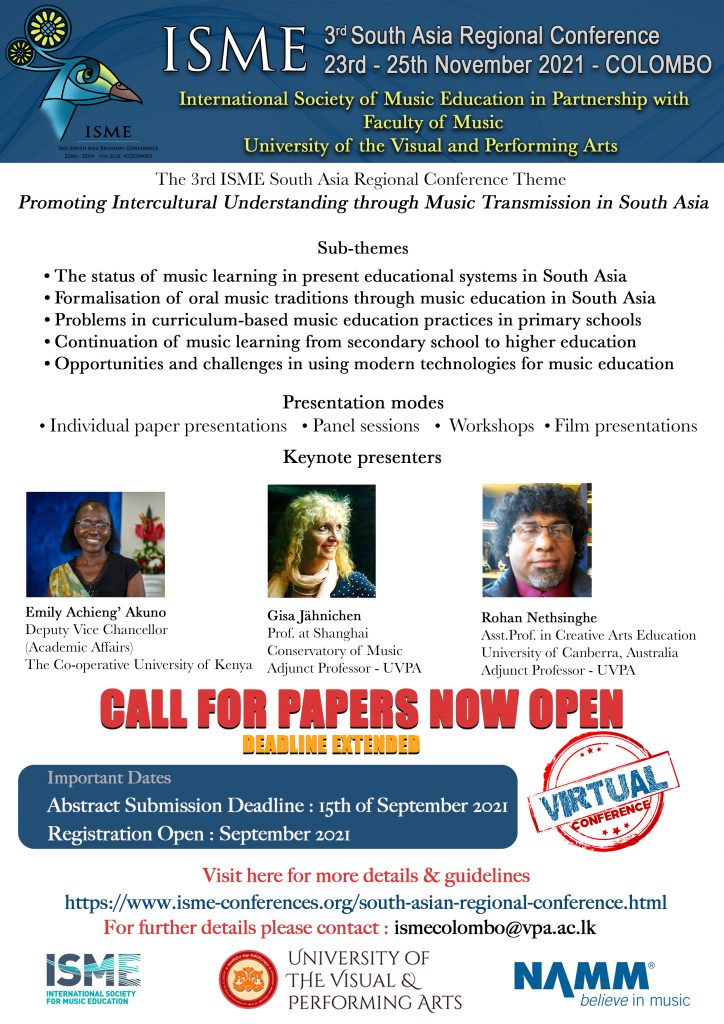 Presenter Information
Conference Theme: Promoting Intercultural Understanding through Music Transmission in South Asia
The main theme could be broken down in to five further subtopics that focus on key aspects of the theme that speak most close to the needs and aspirations of music education in the South Asian region.
The status of music learning in present educational systems in South Asia
Formalization of oral music traditions through music education in South Asia
Problems in curriculum-based music education practices in primary schools
Continuation of music learning from secondary school to higher education
Opportunities and challenges in using modern technologies for music education
The topics are not further elaborated, so that presenters might be encouraged to have an open dialogue that includes the urgent issues that confront regional music education in the here and now while at the same time allowing for time to imagine, plan, and build the pathways, structures, resources and people that will be essential to meeting those long-term goals.
The conference language is English with Sinhala as peripheral language (if the presentation is provided with a translation into English).
Since the conference will be widely held virtually, it will be necessary to pre-produce all approved presentations and to transmit these as mp4-files to the local host institution for replay one month in advance of the event. Failing in doing so will automatically lead to be taken off from the program. The virtual pre-production will not replace your virtual presence in the discussion.
Individual Paper
Presentations have a duration of maximum 20 Minutes followed by 10 Minutes of Q&A.  All the individual proposals will be thematically sorted to the sessions in the final program. The word count of the abstract has to be between 200-250 words.
Panel
A panel session should have 90 minutes duration with three to four papers. Individual abstracts for each paper should be not more than 250 words along with a shared abstract for the panel session not more than 250 of words.
Workshops
A workshop is 60 minutes in duration with 45 minutes allocated to the activity itself. Abstracts should be not more than 250 words.
Film Presentation
A film presentation has to be 20 minutes in length followed by 10 minutes Q&A. Please submit an abstract of 250 words indicating the content of the film.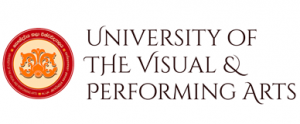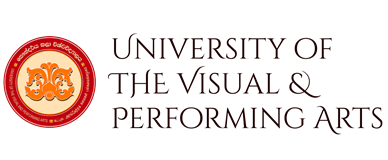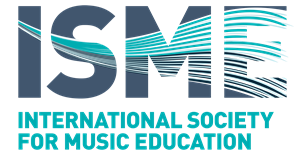 Important Dates
Announcement and Call for Papers
01 February 2021
Deadline for Abstract Submission
15 September 2021
Notification of Acceptance
31 September 2021

Opening for Registration and Payment

15 October 2021
Closing Registration and Payment

30 October 2021
The conference Dates
23-25 November 2021