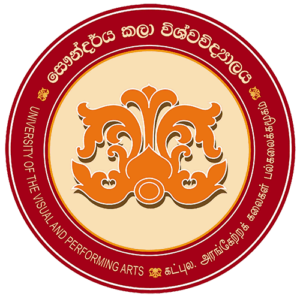 Official Logo of the University of the Visual and Performing Arts
The central image presented in the University's official logo is that of the "Seeni Mala", which is one of the most striking Sri Lankan traditional flower patterns. It is placed with a circular shape that frames the design.
The depiction of this traditional flower design, found in the wood carvings at the Embekka Devalaya in Kandy and the Kataragama Devalaya in Ruhuna, symbolizes the potential of the University to produce highly sophisticated creations of art that are nurtured by the excellence of traditional art forms.
The brown and light-yellow colors in the logo represent visual and performing arts. The name of the University, given in Sinhala, Tamil and English languages, is inserted between the inner and outer circles of the logo.