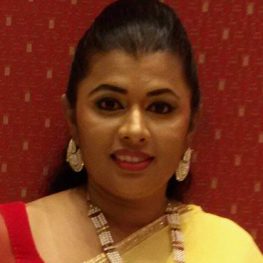 Mrs. M. M. I. G. Madurasinghe
Head, Department of the Indian and Asian Dance, Senior Lecturer
Qualifications: BPA (UVPA), MPA (UVPA), Kathak Visharada (Luknow, India)

Profile:
I had my primary and secondary education from Swarnapali Girls' School, Anuradhapura. I completed my degree, bachelor of performing arts with becoming the batch top and receiving a goaled medal. Masters' of Performing Arts is from the Visual and Performing Arts University of Sri Lanka, and my professional education includes a Visharadha status for Kathak from Lucknow India. After providing services as a Temporary Lecture (2009-2010) ,Probationary Lectures (2010 -2015 ) and a Senior Lecturer, currently I holds the position of Head of Department of the Indian and Asian Dancing at the Faculty of Dancing and Drama in the Visual and Performing Arts University of Sri Lanka. I have performed as a dancer in many countries such as Australia, Korea, China, Japan, India, Philippines and Singapore and I have conducted workshops on dancing arts in India and Australia.
Research Interests:
Dancing (Udarata , Pahatharata, Kathak, Free style,creative dance )
Publications:
Madurasighe I.G. , 2010 " Kathak Narthanaye Gurukula Visheshatha" (Book)
Madurasighe I.G, 2009 ""Sanniyakume Nirupitha SAnniwedanaya" – Sanniyakuma hewath dahaatasanniya (research paper)
Madurasighe I.G, 2009 "Sri mahabodhiya aagamanaya ha badi thuurya wadana sanskruthiya" – Saundarya kala vimarshana 4th session. (research paper)
Awards:
Performing arts Gold medal Faculty of Dance and Drama, Academic year 2006/2007, University of Visual and Performing Arts of Sri Lanka.
Appreciation of service , Inter university exchange programme at South Eastern University of Sri Lanka.
Other Links :
Google Scholar   |  ResearchGate